Justin Lewis
LEAD TECHNICIAN
Justin is our Lead technician here at Tech Rehab – Amarillo. He is experienced in: laptop, desktop, cellular, and game console diagnostics and repair. He graduated from Amarillo College with a degree in Computer Information Systems.
In his free time, he enjoys playing video games on a variety of platforms and watching football and basketball.
Ryan Hebert
TECHNICIAN
Ryan is one of our Technician's here at Tech Rehab – Amarillo. He is experienced in: cellphone and tablet repair. He is self taught and has a few years experience fixing devices.
In his free time he enjoys relaxing at home, watching youtube, and playing his Nintendo Switch. He also enjoys hanging out and going eat out with friends and family.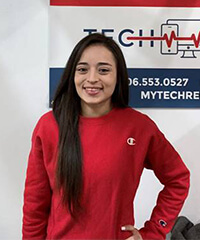 Heather Maldonado
LEAD TECHNICIAN
Heather's passion for the technical side of things has led her to a career as a Technician at Tech Rehab. Her diverse knowledge of device repair and commitment to providing top-tier customer service is a win-win for all clients!
When she is not in the office, Heather enjoys spending time outdoors, hiking and fishing with her family.
Sean Gonzales
TECHNICIAN
Sean is a technician at Tech Rehab. He loves to work on phones and PCs alike but enjoys putting together custom gaming consoles most of all. Sean always takes his time with repairs which assures the highest level of service for your device.  He has a wide range of knowledge on coding and javascripts and is currently pursuing a degree in Architectural Engineering.
Outside of work you can find Sean hanging with his family, working out or bowling.